NC500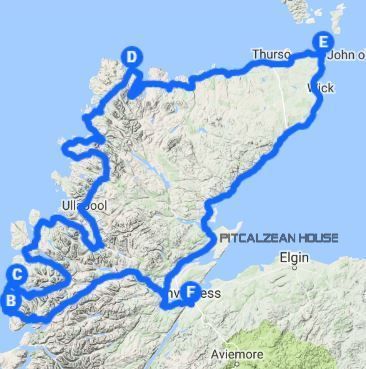 The Official North Coast 500 route begins and ends in Inverness at Inverness Castle. The Castle is a perfect starting point to the route as perched on the hill and offers unparelled views over the capital city of the Highlands.
Bringing together a route of just over 500 miles of stunning coastal scenery, the route path naturally follows the main roads across the coastal edges of the North Highlands taking in the villages and towns of places like Ullapool, Durness, John O'Groats, Dornoch and Inverness.
The North Coast 500 (NC500) was created in 2014 by the North Highland Initiative.  The North Highland Initiative (NHI) is a non-profit organisation that was established by HRH, The Prince Charles, Duke of Rothesay in 2005 in an effort to develop economic growth across the North Highlands. NHI works across three main sectors; food and drink, tourism and built environment. It was through the Tourism Project Board, that the idea of the NC500 was born. The concept of the NC500  was developed in order to create a tourism product that the whole of the North Highlands could benefit from and with such natural beauty already on offer, it was from there that the idea was formed.
The NC500 App is designed to allow you to discover the North Coast 500 while on the move, and providall of the information you will need to complete the North Coast 500.
With hundreds of things to see and do, you are going to need your handy app with you to make sure you don't miss anything out! Search for businesses across the map, identify places to stop and see how close you are to great attractions, all on the new NC500 app!
The app will be available offline too – so when you are surrounded by the splendour of the natural Highlands, you will still be able to find out where you nearest watering hole is.